Is it plagiarism or a tribute to Nirvana?
Only a few days have passed since the release of the new single that Maneskin have already been accused of plagiarism. Their song "Supermodel" caused a scandal, and this time the controversy came from their own fans.
In fact, immediately after the release of "Supermodel", some users on social media commented with harsh words on the piece of the Roman band: they wrote that the Maneskin piece is nothing more than a plagiarism of a famous Nirvana song, "Smells Like Teen Spirit" (1991). In the cover, Damiano David with stiletto heels face down in a pool even reminded many of the same mood of Nirvana's album, "Nevermind".
Here is the new Maneskin song that you can listen to here. Do you feel like you've already heard their piece somewhere else?
There are those who argue that in reality the new Maneskin song is not a plagiarism of Nirvana but a riff already used too many times by many rock bands and not.
The real fans, against all these accusations, continue to defend their favorite group saying that it is a simple tribute to the historic Seattle band, symbol of grunge, a genre much loved by the Italian band.
These were the words of defense of one of the most loyal Maneskin fans.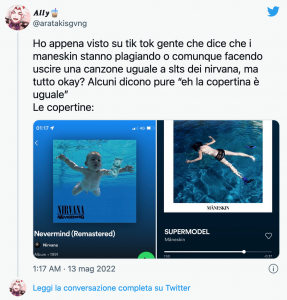 The two songs in comparison
Let's clarify "Supermodel". First of all, it is the first unreleased song released by Maneskin in seven months – "Mammamia" was released in October – and was produced by the famous producer Max Martin who has worked with many important artists such as Michael Jackson.
Martin himself is currently working with Maneskin on the songs that will compose the new album. "Supermodel", in particular, is inspired by the story of a toxic and self-centered model, and the Roman group, responding to some interviews on the individual, have stated that they have always been fascinated by the almost obsessive importance that some people reserve to fame and appearance.
It should be remembered that Kurt Cobain himself, for "Smells Like Teen Spirit", was inspired in turn by the riff of Eighties, a Song by Killing Joke released in 1985.
Even Nirvana – among the most famous groups in the music of the early nineties, the precursors of the grunge genre and in general of alternative rock – were voluntarily inspired, or not, by bands that they particularly esteemed!
To refresh your memory or for the simple pleasure of listening to a timeless piece, we leave you their "Smells Like Teen Spirit".
What will happen between Nirvana and Maneskin?
It is not the first time that the Maneskin have been accused of plagiarism. Last year, in fact, in the wake of the success after Eurovision, the riff of "Zitti e Buoni" was accused of plagiarism.
Back from the Pala Olimpico in Turin, Damiano, Victoria, Ethan and Thomas will now have to answer all these accusations, very heavy for any artist who finds himself defending his ideas and creativity.
But above all… How will the members of Nirvana still alive react? Dave Grohl (former drummer of the group, now frontman of the Foo Fighters) and Krist Novoselic (former bassist) will be heard by the italian group? We just have to wait for developments!
If you are also an artist who needs a hand to protect or defend your creations click here. File your first project and get the paternity certificate right away. It's free!