A new technology allow reading stories in a couple of minute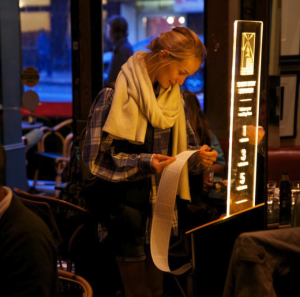 Three buttons (1,2,3) indicate the time needed to read stories and this idea was born three years ago from Short Édition, a French startup company.
As soon as you press a button on the dispensers, a roll of paper comes out and you can read classics and bestseller!
Vending machines are located in Charles De Gaulle airport, in the London underground, in Singapore, in Australia and specially in the United States.
Above all, many emerging authors thanks to this new technology have the opportunity to offer previews of novels found in bookstores or self-published stories.
According to Short Édition the Short stories dispenser is even better then Wattpad, Google, Kindle, and all the other digital reading platforms!
Pressing a button and picking up a sheet similar to a receipt is certainly faster and easier than launching an app and looking for a story on your smartphone.
The French startup until now have distributed stories of 8,000 emerging authors in 172 dispensers and its platform has 300,000 registered readers and 30 million stories available. 
Something is moving in Italy too: in Milan, recently, there was a similar literary initiative. Last year, on the occasion of poetry week, the Gogol & Company bookshop in Milan made a special vending machines: it did not supply puppets or bouncing balls, but poems.
Are you ready for this new opportunity?
Good luck and good job to everyone!
This article has been registered with Tutelio. Protect your original content by using the platform -> register now or find out more.