"GTO" trademark is no longer a Ferrari exclusive and Ares Design wins its battle
The most loved red car ever
Ferrari is the dream of millions of four-wheel lovers from all over the world. Who has not wanted even for a day to go for a ride on the most famous red car on the planet?
From Alberto Ascari to Niki Lauda, ​​from Gilles Villeneuve to Michael Schumacher, many champions drove the red car and won the Formula 1 World Championship (Ed., the team won that championship sixteen times in the constructors classification and fifteen in the drivers classification).
Without the brilliant project by Enzo Ferrari today probably "Ferrari" would be just one of the most common surnames in Italy and nothing more. Today, after more than seventy years, the car manufacturer is a well established and beloved reality. Enzo Ferrari always looked ahead and often said "the best Ferrari ever built is the next one".
The hard battle between Ferrari and Ares Design
In 2018, Ares Design, a luxury car manufacturer in Modena, announced that was planning a series of "reinterpretations" of the 1962 Ferrari 250 GTO (Ed., one of Ferrari's most iconic cars, "the dream" of vintage cars collectors around the globe) worth about 1 million euros. Ferrari did not like this idea and tried to block the production of the vehicle recoursing to the law.
In these days Ferrari lost its battle: according to the European Union Intellectual Protection Office (EUIPO), "GTO" trademark is no longer its exclusive and the EUIPO gave the permission to ARES Design to make its own version of 250 GTO.
Dany Bahar, who founded ARES Design in 2014, immediately declared: "it is a modern reinterpretation, not a copy".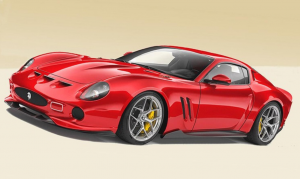 Is not the first time that Ares Design launched a similar action and the reinterpretation of Ferrari 412 is an example.

How did Ares Design win? There is a clause stating that if a trademark is no longer used even for five years it will be lost.
As Ferrari no longer used "GTO" trademark for its new cars, the European Union Intellectual Protection Office (EUIPO) approved Ares Design request.
If you do not use your brand even for five years, you may run into this problem too. Do you want to know more about your intellectual property rights? Send us a message here.
Ferrari is a true work of art
Ferrari 250 GTO, built in its definitive version in the early 1960s, is a rare model not easy to find for sale due to the small number of copies (Ed., only 36 units were produced) and is one of the first cars to be recognized as a work of art.
In June 2019, in fact, the Court of Bologna was responsible for accepting a complaint that Ferrari submitted to protect 250 GTO model from an imitation.
According to the Court of Bologna, for the originality of shapes and design this model was recognized as a true icon in the world with great artistic value.
In addition, Ferrari 250 GTO is also the car sold at the highest price ever seen for a car: in 2018, during the Monterey Car Week in California, it was auctioned off for $ 48 million.