If you are a professional photographer, just starting out or an agency, it doesn't matter: photographing products for e-commerce is difficult because there are several factors to keep in mind, and it can become a problem if you don't have some basic notion to start with. You should ask yourself the following questions: Which camera should I use? What kind of artistic composition do I think is the right one? Will I be able to have the lighting and background of my dreams?
Photographing products for e-commerce is not easy, and in addition there are some people who complicate everything: some clients or photographers who often change their mind about the project after you've spent days working on it. What about when someone steals your photos and you have to run after lawyers and look for incomprehensible documents to defend your ideas?
Thanks to the advice of Alessio Abate, professional photographer and video maker, I will reveal eight tricks how to photograph e-commerce products and how you can defend yourself from those who want to copy you. In fact, Alessio uses our Tutelio platform to prevent these types of problems, but we will talk about them later.
Index
1. White or colored background?
2. Iphone VS camera
3. Expensive or less costly equipment?
4. Some tricks to manage the lights
5. The 3 most important functions of a camera
6. What can I edit in a photo?
7. Use your creativity!
8. What can I do to prevent my photos from being stolen?
1. White or colored background?
Alessio Abate, professional photographer and video maker, told me that in the studio the background doesn't have to be black or white, but also colored. "You can also take a roll of A4 paper with pastel tones and use it to promote a red lipstick. It's about playing with different tones that belong to the same family, once I did this for a photo shoot".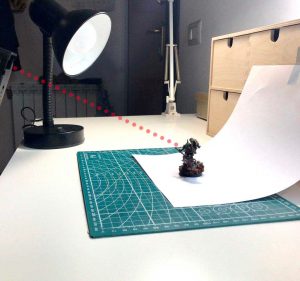 2. Iphone VS camera
But can I photograph e-commerce products with the iPhone? Or do I have to use a camera? Alessio Abate, replies: "You can do anything you want, there are iPhones with very advanced cameras inside, but the problem with mobile phones is that they have some mechanisms that do not allow you to manage the light. The camera, on the other hand, allows you to choose manually different functions, such as exposure, a precise focus point or other compositions and special lights that are impossible for an iPhone".
3. Expensive or less costly equipment?
Alessio Abate, professional photographer and video maker, surprises me. "It depends if you are an agency or a freelance like me, the needs are different. Once I had to do a job for a client who sold earrings, and while I was trying to open the door of his studio, the key was broken. I immediately went home, I took some fluorescent lights, a classic A4 sheet and I took photos with my camera with what I had. You don't need to spend a lot of your budget to get a good result, obviously it always depends on your needs and in my case I had to deliver the photos immediately because my client was in a hurry. For those who are just starting out, you can try this way. Obviously the A4 sheet limits you because you can only use small objects and the images you create tend to be flattened".
"Surely, for photographing e-commerce products in a studio, tables with lights are more expensive than a simple A4 sheet. Alessio Abate told me that "Amazon sells tables together with the lights, and so you can save a little. There are a lot of tables sizes, and before buying them you have to look carefully at the size of the objects you have to photograph because objects must be on top of the table. You can also choose translucent tables, which are ideal if you want to achieve that reflective effect typical of some perfume advertisements. However, I repeat, even with an A4 sheet you work well because it reflects light well".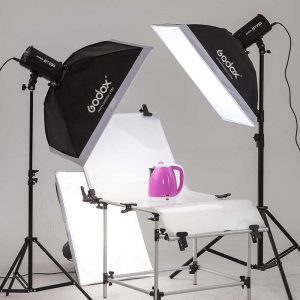 4. Some tricks to manage the lights
I ask Alessio Abate to explain how to use lights to photograph e-commerce products. "There are several ways to use the lights in studio. You can use flash or continuous light for video shooting . I find the choice of continuous light very interesting, even for a photo because it allows you to see the phtographic result in real time and to play with lights. The mirror is another system that can be useful for reflecting both artificial and natural light, and for creating interesting light effects. Usually I prefer to use mirrors in videos".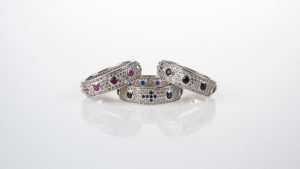 What is the best way to photograph outdoor e-commerce products? Alessio Abate also answers this question. "If you have to do a photo shoot for a food product, for example a shoot for a bottle of wine, the choice of photographing outdoors may be the right one. In this case you have to choose the right background which can be fuzzy vineyards. In addition you have to think about the right table on which to place the bottle of wine, now vintage wooden tables are in fashion. The choice of the surface is very important, especially if you have to create a specific atmosphere. Shooting outdoors has its advantages but also its weakness because sunlight changes constantly and you have to be fast if you want your photo looks good".
"I use reflective panels or simple diffusers to manage sunlight. Recently I took pictures for a Sicilian oil bottle brand during an outdoor photoshooting. I decided to do a bizarre choice and I traveled around Sicily holding the bottle of oil in my hand following the sunlight without using panels or diffusers because I wanted to capture the atmosphere that the landscape offered me. For those who makes this choice, I recommend avoiding shooting when the sunlight is perpendicular to your head but choose the golden hour of six or seven in the evening: at that time the light is softer and does not create contrasts. Also light from five to seven in the morning is also particularly beautiful".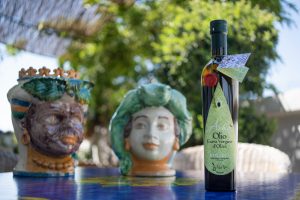 5. The 3 most important functions of a camera

"There are many important functions in a camera – says Alessio Abate, professional photographer and video maker – but I'll tell you about the main ones, which are three: shutter speed, aperture and ISO. Shutter speed regulates the speed that closes shutter. To photograph e-commerce products to animals or people in motion during some sport races such as MotoGP, you have to manually choose for a fast shutter speed because it is the option that allows you to capture the image without movement . If you want to get the effect where you can only see the light of the cars and the fuzzy car, it will be indicated the choice of a slower shutter speed. When the shutter closes quickly, it enters low light, if it closes slowly it enters too much light. It is important to find the right balance of shutter speed otherwise you will get photographs in which you see too much light or too little. In general, especially if you choose slower shutter speed, I always recommend using the tripod, even the portable one is fine, so you will get still and not fuzzy photos".
"The second most important function of a camera is the aperture, the option relating to the lens you choose for your camera. It is like a ring that opens and closes inside the lens. On the aperture you will find the words "F +" and the value of the lens which can be a low number such as 1.8 or a high number such as 22. The choice of that value determines the increase or decrease in depth of field. When you put everything in foreground and the background fuzzy, the depth of field decreases and you have to choose a lens with a downwards value. Instead, if you want to take a photo of a landscape and increase the depth of field, you have to choose a higher lens value and focus everything. With a low value of F a lot it will enter a lot of light, with a high value, the opposite. If the photo is fuzzy, it is probably because you kept the shutter speed too low and so you will have to increase the shutter speed. The key is to find a balance between shutter speed, aperture and ISO".
"The third and last important function of a camera is the ISO – says Alessio Abate, professional photographer and video maker – which reproduces the sensitivity of the film and has a value that can range from a minimum of 100 to a maximum of 25o.thousand. It is a digital camera function that illuminate the photo digitally. I give an example. If I have to take a photo in a dark forest, it means that the photo is underexposed and therefore I have to use ISO. Be careful to choose the right ISO value otherwise you will risk getting a very bad photo grain and therefore, to avoid these problems, I recommend you stay under 600. Photographing e-commerce products in the studio will probably allow you to use more shutter speed or aperture because you have the possibility to build the light that you need and ISO, therefore, is a function that could not be used".
6. What can I edit in a photo?
"You can use Photoshop to edit a photo or other types of editing programs – says Alessio Abate – but my advice is always to take good photos before using them, otherwise you risk distorting the original photo too much. For example, when they ask you for a black and white photo, try to do a shooting in color and then use editing programs because if you want to try to use other effects you can't go back. However, post production, in addition to the effects and all the adjustments such as brightness, hue or saturation, helps you to make the photo more 'clean' with photo retouching. For example, you can remove some stains from bottle or dust from tables. Instead, there are some artistic projects that provide a certain type of style in which you can indulge yourself with all the effects you want. For these types of work, in fact, I recommend Light Room, the perfect way to create interesting colors, as happens in many photos of winter landscapes when you are asked to add blue casts".
"Another issue to address is the white balance that you can find both in the camera, with the automatic or manual mode, or in post production, on Photoshop, to correct any wrong casts. In theory, the correct light is the natural light of the sun which has a value of about 5500 Kelvin and, if you want to photograph products for e-commerce, you should correct the photos that tend to certain types of color. If you shoot in a house or apartment where there are yellow lamps, have you noticed that the photos tend to be yellowish? With the color balance you can change this annoying effect and bring the photo to a correct color temperature which is 5500 Kelvin, unless you want to get this effect on purpose of course, as in the case of some photos set in Christmas contexts with very warm light. However, apart from these specific cases, it is always better to shooting well and with the correct light and avoid post production as much as possible".
7. Use your creativity!
Alessio Abate, professional photographer and video maker, tells me that photographing products for e-commerce can be fun. "When I take care of the photographic composition, that is the part I prefer because it is the most creative. How do you want to place the items on the table? How many items do you want to choose for a shooting and which ones do you want to highlight? Do you prefer to choose the same objects but with different colors, different objects with the same colors or a mix of all these elements? Would you like to be daring and add some decorative elements? For a photo shooting I choose to put a pistachio panettone in foreground and to place some pistachios and chocolate flakes all around fuzzy".
"Sometimes it happens that a client doesn't know what he wants and that's where creativity comes in to help you. You can be creative with the composition but also with the lights and you can manage to create a particular atmosphere with simple chandeliers or table lamps instead of using expensive lights. In general, to deal with clients who say 'do as you like', I always recommend showing them some of your shoots or photos that you like, so you can avoid spending time photographing products for e-commerce which are not good".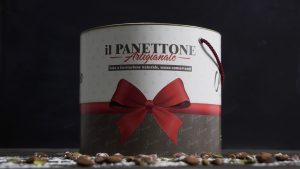 8. What can I do to prevent my photos from being stolen?
We have already revealed 7 tricks on how to successfully photograph e-commerce products, but now there is only one more topic to talk about relating to the protection of your photos. Alessio Abate told me that someone recently tried to steal some photos from him.
"Unfortunately, I had an argument with a person who copied the idea of a photo from me and I had to run after lawyers and look for incomprehensible documents to defend my project. If I had protected myself before, I would feel more calm, but now I have to deal with boring issues that distract me from my work. At this moment the situation seems to have cleared up, however, to avoid other similar problems in the future, I signed up with Tutelio online platform. It's quick and easy to use because it helps me to protect my ideas from those who copy, and in addition, I can finally understand what the lawyers mean".
If you want to learn more about Tutelio and the services it offers for the protection of intellectual property against plagiarism and illicit use of ideas, visit this page.
* Photos credits to Alessio Abate