This series of articles were born from Tutelio's passion and dedication to helping and enhancing creative work.
In fact, looking for a job in the creative field often leads to a huge commitment in terms of time and energy.
For this reason, these series of articles aims to be a guide for your ideal creative work.
Every day Tutelio is committed to taking care of everyone's ideas, projects, inventions and creations with passion. If you want to know more about Tutelio and its mission visit the site.
Who you are
It is difficult to define who you are and why you have decided to take one path rather than another.
Getting to know each other deeply and investigating our deepest self is one of the issues that has always fascinated philosophers and ordinary people.
Socrate's "know yourself" maxim is still being studied today.
Of course, during the journey of life, in addition to doing self-analysis you will come across different experiences and confront numerous professionals who will either help you or keep you from understanding yourself.
Many will say to you "you are very good at writing" or "you are very good at drawing", either because they really think so or because they too would have wanted to do it and did not have the courage.
How many times have you chosen to pursue one road rather than another just because someone told you that you were good at that thing?
In any case, remember that the power of creativity and imagination are fundamental to any activity. In fact, our brain uses images and makes no distinction between reality and fantasy.
To prove this, an experiment was done by some scientists on Russian athletes.
They were trained differently and the results of the experiment were incredible: the group that had been trained to visualize victory through image visualization came first.
Let's take as an example a person we all know: Arnold Schwarzenegger, someone who has managed to achieve all his life goals. Firstly as a body builder, followed by that of an entrepreneur and film actor, and finally as a politician.
You may be wondering how he did it?
One of the secrets of success is to imagine every day that you have already reached your goal.
"People fail to achieve their goals because they can't imagine success. So in the end he thinks he can't do it and throws in the towel at the first difficulties. Successful people, on the other hand, do not give up because in their minds they have already won, only that the thing is not yet official", Arnold Schwarzenegger
Arnold, who was born in a small village in Austria of 2000 inhabitants and grew up in a poor family, has always been motivated by his goals and never influenced by the people around him.
His experience shows that even people from poorer backgrounds can make it.
In fact, history shows with numerous examples that from times of crisis rebirth often takes place and something authentic can be born.
Take for example, the case of J. K. Rowling with her Harry Potter saga.
Despite the fact she was lonely, extremely poor and had no opportunities available to her at the time, she managed to make it a global success.
To sum up, everyone has unique characteristics, and before presenting yourself to a company it is essential to fully understand who you are, what you are looking for and what your value proposition is, that is, what your added value is.
The personal branding canvas
For those who want a more "scientific" and "rational" approach, a really useful tool for identifying yourself can help: the Personal Branding Canvas is the simplest and most concrete resource to find out why you are special and let those who really matter know.
Here you can focus on all your qualities, strengths and weaknesses.
You can focus on the resources, tools, and skills you need to achieve your goals. You can identify your audience, competitors and actions.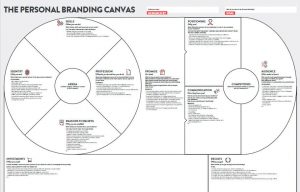 Let's see step by step the areas that need to be filled in and what they represent.
The first section to fill in is the category, market, context or "arena" in which you compete. It consists of five parts: "identity" (who you are), "skills" (what you can do), "profession" (what you do and how you do it), "reasons to believe" (because you are credible) and "promise" (what you promise your audience).
This part of the Canvas helps you think about the past, the present and above all your future because it allows you to always ask yourself the question: why do you do what you do? This applies not only to your work, but also to your life, and once compiled, the professional path you have done so far you will be clearer. Due to this, you will better understand the value proposition we talked about earlier.
In "identity" (who you are), you need to think about what makes you a special person for your audience: traits such as how you build relationships with other people and the organizations you've been dealing with; some anecdotes you love to tell about personal and professional stories or events; the values; the passions and the ideals thanks to which you have supported causes dear to you are all important factors.
Here is the right time to bring out your vision of life and what you want to become in the long run.
In the area of "skills", you have to think about your natural skills and the knowledge that you  possess without forgetting the most technical skills that have allowed you to realize your profession.
In the part of the "profession" (what do you do and how you do it), instead, you have to talk specifically about your work, starting from the job title, to specifying your tasks and responsibilities, the type of approach you use (if it is unconventional, multidisciplinary, etc.), and more practical aspects such as if you work remotely, in presence or the type of contract you would like or currently have.
In the section dedicated to reasons to believe (because you are credible), you must enter everything that testifies your skills from certificates to portfolios, up to numbers on social media and positive comments released by colleagues or work partners.
In the "promise" (what you promise your audience), you need to specify what kind of people and organizations you want to attract based on the issues you want to deal with, the values and emotions you want to convey, and the desires you want to fulfill. Thanks to your work, your audience should receive a number of benefits.
The second area to fill in is related to people, services or products with which your audience compares you, i.e. the "competitors", and consists of three parts: "positioning" (the distinctive aspect that you emphasize to make your audience consider you), "communication" (as you make yourself known to your audience) and "public" (the most important people you need to influence to achieve your goals).
With this part of the Canvas you will start to understand the so-called "personal branding", that is, the marketing strategy that helps you compare yourself  to the public – which we will discuss in the third article – and knowing how to recognize the recipient of your message, your likely intermediaries, that is, those who speak well of you and take into account the virtual places.
Therefore, it is important that you reflect on your professional values, on how you approach work and on the element that can strike at the heart of the recipient thanks to a winning communication strategy.
If you think about both of these factors, it will be natural for you to recognize your real competitors and what differentiates you from them, so, in a word, what could make you unique in the eyes of your target audience.
In the area of "positioning" you have to choose the most credible and important aspects: your values (the inspiring idea that influences everything you do), resources (the technologies and assets that make you credible), profession or distinctive peculiarities, skills or what you know how to do well and public (sector, specific people and organizations you focus on).
In the "communication" part you need to focus on how to create and develop a relationship with your audience through different strategies, such as personal branding, storytelling for personal branding, personal image, profile photo, tone of voice, use of social media and networking.
The "audience" section leads you to think about the places, events, community that your target attends, and therefore, in general, who influences them.
Your audience may be made up of your customers, employers, HR managers, colleagues or headhunters, etc. You also need to take into account influencers (journalists, bloggers and opinion makers), not forgetting social media and therefore followers and all the communities and forums to keep absolutely under control.
With the third sector, however, it's time to be practical and understand what personal branding strategies you need to invest in yourself in the best way: this is the section called "investments" (what you need for successful personal branding). The results depend on not only the type of strategy you choose, but also on the strategic phase in which you are located. You will aim to be valued, considered, chosen, confirmed and finally recommended.
Remember that you always have to have a clear relationship between the resources you invest in and the resources you receive, otherwise you will never know if your strategy is working or if it needs to be changed instead. For example, if you attend industry events as a speaker for free to introduce yourself, you should ask yourself the question of whether this really helps you find new customers or new collaborations.
If the time you invest turns into contacts and contracts, then the answer is yes; If you don't materialize any projects and can't import as a benchmark in your industry, you'd better quit this business because you won't have a significant return on investment.
In this section, you need to accurately calculate how much and how you will invest in all the activities, initiatives, and resources you need to do personal branding. This can range from the hours you post on social media, to the number of articles you post per month, to training courses with specialized coaches, or public speaking , or even the development of intellectual property.
From the "results" part, you will have a better indication if the audience has remembered you due to your personal branding, and it will give you a better idea if you are valued more than other brands. If the results are positive, your audience should stay loyal to you and always recommend you to others.
Let's see the example of how you can build the Canvas starting from the skills of an expert in both digital marketing, management and development for brands.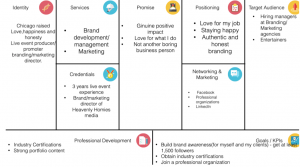 * Credits to "sienanews" website for the cover image